AFFILIATION / M1 GROUP
A GLOBALLY RESPECTED CONGLOMERATE WITH OFFICES WORLDWIDE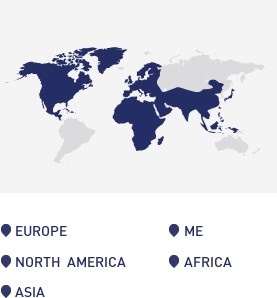 M1 Group is a conglomerate that owns, manages and oversees investments and subsidiaries in diverse sectors such as telecommunications, real estate, aviation, fashion and retail, energy, heavy industries and FMCG.
Our story begins in the 1970s, when two brothers decided to build a company on the values of honesty, hard work and the desire to lead the way.
Having built firm foundations in the construction industry, Taha and Najib Mikati ventured into the telecom market. Their vision was to develop and produce innovative solutions in mobile and satellite communication. They founded Investcom, which expanded into West Africa and other Middle Eastern countries.
By 2005, with operations in 10 countries and over five million subscribers, Investcom was listed on both the London and Dubai Stock exchanges as the largest international listing of a Middle Eastern company. In 2006, a landmark deal merging Investcom with MTN Group created one of the largest emerging markets telecommunications company.
The creation of M1 Group in 2007 allowed diversification into new sectors and territories, gradually building a vast portfolio. Our core philosophy of pursuing long-term, stable growth allowed us to rapidly expand into a globally recognized conglomerate.